The 2024 Wimbledon Tennis Championships are sure to be one of the year's marquee sporting events. Since 1877, this London-based tournament has grown to become the world's top tennis competition featuring the best players, celebrity spectators, and exciting matches. And we'll help you get there!
When and where will Wimbledon 2024 take place?
The 2024 Wimbledon Championships are scheduled for 1 – 14 July, 2024 at the All England Lawn Tennis and Croquet Club in London, England. Grounds and court maps can be found here.


Where can you buy tickets for Wimbledon?
Official Wimbledon Tickets with Event Guarantee
Read more about StubHub's FanProtect Guarantee and the viagogo Guarantee before buying.
Tickets are available through the Wimbledon event website here via a successful public ballot application. This is the most cost-effective way to purchase tickets if you plan ahead and are lucky enough to be selected. A limited number of same-day (or "on day") tickets may be available via the Queue; this is only a realistic option for persons within commuting distance of Wimbledon. Another option is to consider the Wimbledon Debenture Ticketing Service – who has covered the event for over 30 years.
You might also be interested in the French Open tennis tournament – held each May/June in Paris, France.



Where is the best place to stay for Wimbledon?
The best place to stay for Wimbledon is in the Wimbledon neighborhood of southwest London. For those combining a trip to Wimbledon with other London sites, the corridor along the northern side of the Thames River on the Underground District Line presents an attractive option. This includes the neighborhoods of Fulham, Chelsea, Kensington, & Westminster.

Popular Choices
Rose and Crown Hotel  Well rated hotel with excellent proximity to Wimbledon Village and local cultural and dining offerings
Dog and Fox  Popular hotel (with lots of repeat guests) and on-site restaurant/pub is about a 12 minute walk away from the courts
Budget
Antoinette Hotel Wimbledon  Very good value hotel located less than 10 minutes away by car or ~30 minute walk
The Gateway Hotel  A bit closer to London city center in trendy Clapham, this budget option is 500 feet from the Clapham South Tube Station
Upscale
Be smart and book early. Prices will go up closer to tournament time and nearby lodging options will dry up.
How do you get to Wimbledon? Are public transport options available?
The address for the All England Lawn Tennis and Croquet Club is: Church Road, Wimbledon, London, SW19 5AE
Public transport is available for Wimbledon and recommended by the tournament. Nearby underground (or "tube") stops include: Southfields on the District Line and Wimbledon on the District and Main Lines. The Wimbledon stop is popular as it is also a connection point for traditional train/rail service. However, the walk from the Wimbledon station to the tournament is a bit long and uphill, so if you have the option – get off at Southfields. That said, a shuttle service from Wimbledon station to the tournament is available for a fee and tickets can be purchased here.
To check schedules and see all available transport options, please see the Transport for London official website.
For flights, London's Heathrow (LHR) or Gatwick (LGW) are your closest and best options; both are major international airports.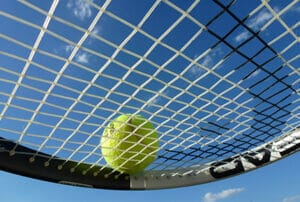 How do you find cheap flights, tour packages, or things to do near Wimbledon?
Here's a link to our London Travel Deals page and below are some top things to do in and around London via our affiliate partner Tiqets.com. And don't forget to check out our What's on in London Events Calendar for the top live upcoming concerts, games and events.