There is nothing like catching Real Betis Balompié professional football action live and in-person!
Real Betis competes in the Spanish La Liga and play their matches at Benito Villamarín Stadium in Seville, Spain. The La Liga season schedule typically runs from August until May with 38 total match fixtures.


Where can you buy tickets for Real Betis? 
You can purchase tickets for Real Betis football (soccer) games through the club's official website. Sold out? Check availability through secondary re-sellers VividSeats or Viagogo.
Real Betis' women's team match schedule can also be found on the official site.
Where is the best place to stay for Real Betis games?
Benito Villamarín Stadium is located south of downtown Seville in the Heliópolis neighborhood. There are a couple of hotels within 2kms of the stadium. But if you'd like to see more of the city's sites, the best area to stay for games is further north near El Centro. This will put you in close proximity to several popular Seville attractions and public transport options.
Today's Hotel & Lodging Deals near Benito Villamarín Stadium
Enter dates and adjust zoom to see more options at various price points.


Don't wait until the last minute… on/around game day lodging in the surrounding areas will become more scarce and prices will go up.
How do you get to Benito Villamarín Stadium? Are public transport options available?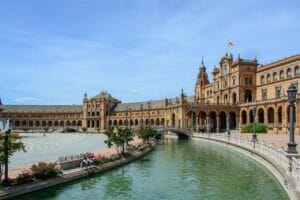 The address for Benito Villamarín Stadium is: Avenida de Heliópolis, s/n 41012 Seville.
The stadium is accessible by public transport via bus and taxi. Allow extra time on match day due to the crowds.
Flying in for the game? Seville Airport (SVQ) is the closest major airport for international and domestic air travel. It is located about 13 kms northeast of the stadium.
How do you find cheap flights, tour packages, or things to do near Seville?
Here's a link to our Seville, Spain Travel Deals page and below are some top things to do in and around Seville via our affiliate partner Tiqets.
Page information can change at any time. Always confirm before booking. If you see an error or change, please let us know. Last updated on 5/24/2022.