Date | Registration | Course Information | Hotels & Lodging | Records | More

Officially called the Athens Marathon. The Authentic. – this race will provide a marathon experience like no other. Feel the rush of more than two thousand years of history with every footstep. And it's over the same Greek soil where the legend of the Marathon began.


When and where will the 2023 Athens Marathon take place?
The 2023 race is scheduled for November 12, 2023 in Athens, Greece (see more detailed location info below).


Where can you register for the Athens Marathon?
The Athens Marathon price in 2023 depends on date of registration and ranges from €55 – €120 for individual competitors. Registration can be done through the official event website here.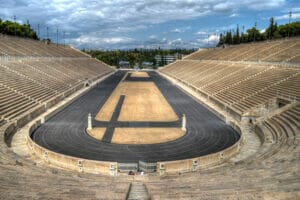 Where is the start and finish line for the Athens Marathon? Is a course/route map available?
The Athens Marathon starting line is at the stadium in Marathon, Greece (northeast of Athens). The finish line is located at the historic Panathenaic Stadium in Athens. The course map for the Athens Marathon can be found here and is a good reference for spectators who would like to cheer you on.
Where is the best place to stay for the Athens Marathon?
The best area to stay for participants largely depends on whether you would like to stay closer to the start or the finish (or popular attractions!). Our recommendation would be to stay in downtown Athens near the finish line at the Panathenaic Stadium aka Kallimarmaro (and preferably near a metro stop – see next paragraph below lodging choices). This will put you in quick access to several places you might want to visit including the Acropolis, the Temple of Olympian Zeus, the Temple of Hephaestus and more. There will be more hotel and lodging options in Athens than in Marathon due to city size and demand on race day. That said, marathon runners may enjoy a visit to Marathon to check out the Marathon Run Museum.
Popular Choices
The Newel Acropolis  Less than 400m from the finish line at the Panathenaic Stadium; this modern condo hotel utilizes door codes (so you won't need to hide a key/card while you are running!)
The Athens Gate Hotel  Also near the finish line; a good choice if you'd like to see some once-in-a-lifetime views of the Acropolis
Marathon Eco Stay   Probably your best bet around the starting line in Marathon; but you'd better book early as it fills up fast
Budget
Upscale

Please note that the race organizers typically run buses from several sites in Athens – usually at or near metro stops – to the starting line in Marathon on race day. See the official site for more information.
What is the course record for the Athens Marathon?
The marathon's course records are: 2:10:37 for men set in 2022 by Fikre Bekele; and 2:31:06 for women set in 2010 by Rasa Drazdauskaitė.
How do you find cheap flights, tour packages, or things to do in Athens?
Here's a link to our Athens Travel Deals page. For flights, Athens International Airport (ATH) is located about 30km east of downtown Athens.
Below, we've assembled some popular activities for visitors to Athens via our affiliate partner Tiqets.com.
2024 Major European Marathon Calendar
17 March: Rome Marathon
7 April: Paris Marathon
21 April: London Marathon
5 May: Prague Marathon
29 September: Berlin Marathon
20 October: Amsterdam Marathon
27 October: Frankfurt Marathon
TBD November: Istanbul Marathon
TBD November: Athens Marathon
Looking for more Greece travel inspiration? Check out our friends at Shiny Greece for great photography, destination information and attraction reviews.