Date | Registration | Course Information | Hotels & Lodging | Records | More

The Amsterdam Marathon – officially called the TCS Amsterdam Marathon – is a great opportunity to explore northern Europe's canal city on your own two feet! Sure, it's one of the world's fastest marathons…but it's also a fun, colorful way to see Amsterdam up close as you run under the Rijksmuseum, along the Amstel and through the Vondelpark!



When and where will the 2024 Amsterdam Marathon take place?
The 2024 event is scheduled for Sunday, October 20, 2024 in Amsterdam, Netherlands (see more detailed location info below). The race has a field limit of 20,000 participants.


Where can you register for the Amsterdam Marathon?
The Amsterdam Marathon registration price in 2024 will be €120 for individual competitors and can be done through the official event website here.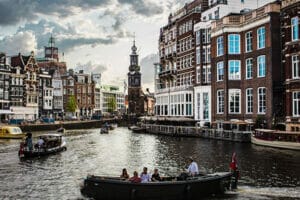 Where is the start and finish line for the Amsterdam Marathon? Is a course/route map available?
The Amsterdam Marathon starting and finish line are both located at the Olympic Stadium in the Amsterdam-Zuid borough of southwest Amsterdam. The course map for the Amsterdam Marathon can be found here and is a good reference for spectators who would like to cheer you on. Race day transport information can be found here.
Where is the best place to stay for the Amsterdam Marathon?
The best area to stay for participants is near to the Olympic Stadium start/finish line in Amsterdam-Zuid.
If you are looking to explore the popular attractions of downtown Amsterdam consider lodging options to the north/northeast of the stadium. If you are only flying into Amsterdam to run the race, consider staying more to the southwest near Amsterdam Schiphol Airport.

Popular Choices
Olympic Hotel  Roll out of bed and right on to the starting line. (Or stagger back in before your muscles cramp up!)
Hotel & Wellness Zuiver  With an outstanding on-site spa, it's perfect for runners looking to prep or recover; 1.8 km south of start/finish
INNSiDE by Meliá Amsterdam  Just 1.6km east of the stadium; also offers convenient access to the Amsterdam Zuid station for travel/sightseeing
Budget
Upscale
Pulitzer Amsterdam  In the heart of Amsterdam City Center; treat yourself to the Canal view upgrade to really soak in your surroundings;  ~15-20 minute car/taxi ride to stadium
Conservatorium Hotel  Pricey but sensational; for those seeking "world-class" amenities and close proximity to Rijksmuseum, Vondelpark, and more
What is the course record for the Amsterdam Marathon?
The marathon's course records are 2:03:38 for men (set by Tamirat Tola) and 2:17:20 for women (set by Almaz Ayana).
How do you find cheap flights, tour packages, or things to do in Amsterdam?
Here's a link to our Amsterdam Travel Deals page. For flights, Amsterdam Schiphol Airport (AMS) is located approximately 12 km southwest of the start/finish line.
Below, we've assembled some popular activities for visitors to Amsterdam via our affiliate partner Tiqets.com.
2024 Major European Marathon Calendar
17 March: Rome Marathon
7 April: Paris Marathon
21 April: London Marathon
5 May: Prague Marathon
29 September: Berlin Marathon
20 October: Amsterdam Marathon
27 October: Frankfurt Marathon
TBD November: Istanbul Marathon
TBD November: Athens Marathon