The Paris Marathon – officially called the 2023 Schneider Electric Marathon de Paris – takes you on a lovely journey through the City of Light. You'll pass the Eiffel Tower, Notre Dame Cathedral, Place de la Bastille, Place de la Concorde, Palais de Garnier & more! Ready to run? We've got the answers to some of your most frequently asked questions to help get you to the starting line…


Paris Travel Deals
When and where will the 2023 Paris Marathon take place?
The 2023 Paris Marathon is scheduled for April 2, 2023 in Paris, France (see more detailed location info below).


Where can you register for the Paris Marathon?
Registration for the Paris Marathon can be done through the official event website here.


Where is the start and finish line for the Paris Marathon? Is a course/route map available?
The start and finish lines are near the Arc de Triomphe (see map below). The starting line is just east/southeast of the Arc de Triomphe along the world famous Avenue des Champs-Élysées. The finish line is just west of the Arc de Triomphe along Avenue Foch.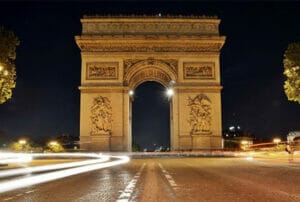 The course map for the Paris marathon can be found here and is a good reference for spectators who would like to cheer you on. The race course heads southeast from the start to around the area near the Vincennes Hippodrome de Paris. From here the course moves back northwest towards the downtown area, eventually moving along the edge of the River Seine before breaking away for the final 10 km push towards the Arc de Triomphe.
Where is the best place to stay for the Paris Marathon?
The best area to stay for Paris Marathon participants is near the Arc de Triomphe due to the proximity to the start/finish line and local area attractions. If you are bringing spectators to cheer you on, consider staying closer to the Place de la Concorde or Place de la Bastille as both will offer the ability to see runners at multiple places on the course within a short walk.
Paris area lodging, particularly in this area, is costly around race day. For cheaper lodging still within proximity of the starting line (and to avoid downtown traffic) look for stays to the north/west of the Arc de Triomphe slightly more outside of city center.
Race day lodging: Here are the available hotel & lodging options near the starting line (for the night before the race).


Book soon – marathon runners tend to plan ahead (and might take the hotel deal you have your eye on!).
What is the course record for the Paris Marathon?
The marathon's men's course record is 2:04:21 set in 2021 by Elisha Rotich of Kenya. The women's record is 2:19:48 set in 2022 by Judith Korir, also of Kenya.
How do you find cheap flights, tour packages, or things to do in Paris?
Here's a link to our Paris Travel Deals page. For flights, Paris's Orly (ORY) or Charles DeGaulle (CDG) are your closest and best options; both are major international airports. A bit further north of the city, Beauvais Airport (BVA) is a hub for budget carriers.
Below, we've assembled some popular activities for visitors to Paris via our affiliate partner Tiqets.com.
2023 Major European Marathon Calendar
19 March: Rome Marathon
2 April: Paris Marathon
23 April: London Marathon
7 May: Prague Marathon
24 September: Berlin Marathon
15 October: Amsterdam Marathon
29 October: Frankfurt Marathon
5 November: Istanbul Marathon
12 November: Athens Marathon